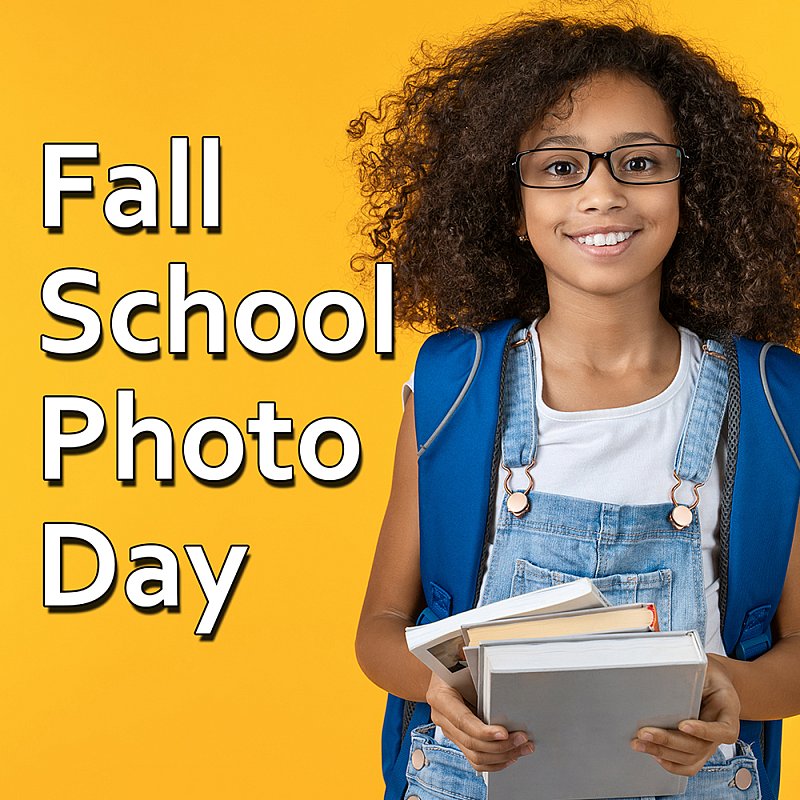 Our Fall School Portrait program takes place with us coming to your school in either September or October. At this time we'll photograph each student in 3 poses along with a traditional group photo of each class. We can also photograph any staff members that would like a portrait and create a staff group photo.
With our Fall School Portrait's we offer a proofing program or see before you buy. We no longer use paper order forms and all school photo ordering is done through our secure online ordering website.
To maximize customizing, we photograph all Fall Portraits on green screen. This allows parents more options to tailor the portraits for their own specific style.
These images are also used to create the schools administration products, like Student ID Cards, admin stickers, along with admin software files & yearbook photos.
Each student receives a Student ID Card. For fund raising the school receives 10% of net sales from the Fall School Portrait Program.
SCHOOL PHOTOS FAQ
When will my portraits be online?
Your child's photos will be uploaded to their online portrait gallery approximately 4-5 school days after school photo day.

When will I receive my photo order?
Please allow 2-3 weeks from your schools order day deadline. Orders will be shipped to your school and then distributed to students to take home. If you place your order after the school's order day deadline, your order may take 4-6 weeks for delivery.

What payment types are accepted online?
Visa, MasterCard, American Express, Visa/Mastercard Debit and pre-paid credit cards are all accepted.

What if I don't have a credit card to order online?
If you don't have a credit card, don't worry! Call us at 204-729-0789 to make your order.

Can I order if I missed the order deadline?
Yes you can order after your schools order day deadline. However, please be aware that your order may take 4-6 weeks for delivery.

How do I receive my digital photo order?
All digital photo orders are direct download. Once you order you will be able to immediately download your images. If you've chosen to have any retouching done you will receive a separate email within a few days once your retouched images are ready to download.